Het 2e kunstwerk van Love Blooms is een feit! Deze week ben ik digitaal gaan bloemschikken met de geborduurde bloemen die ik afgelopen maanden heb mogen ontvangen. Het blijft bijzonder om een enveloppe uit de brievenbus te halen waarop Love Blooms geadresseerd staat! Want dat betekend dat er een geborduurde verrassing in zit.
Ook dit keer kwamen de enveloppen vanuit heel Nederland en zelfs ook uit New York, Amerika. De bloemen worden begeleid door een handgeschreven brief, zo leuk om te lezen wie de afzender is en hoeveel plezier diegene eraan heeft beleeft om de bloem te borduren.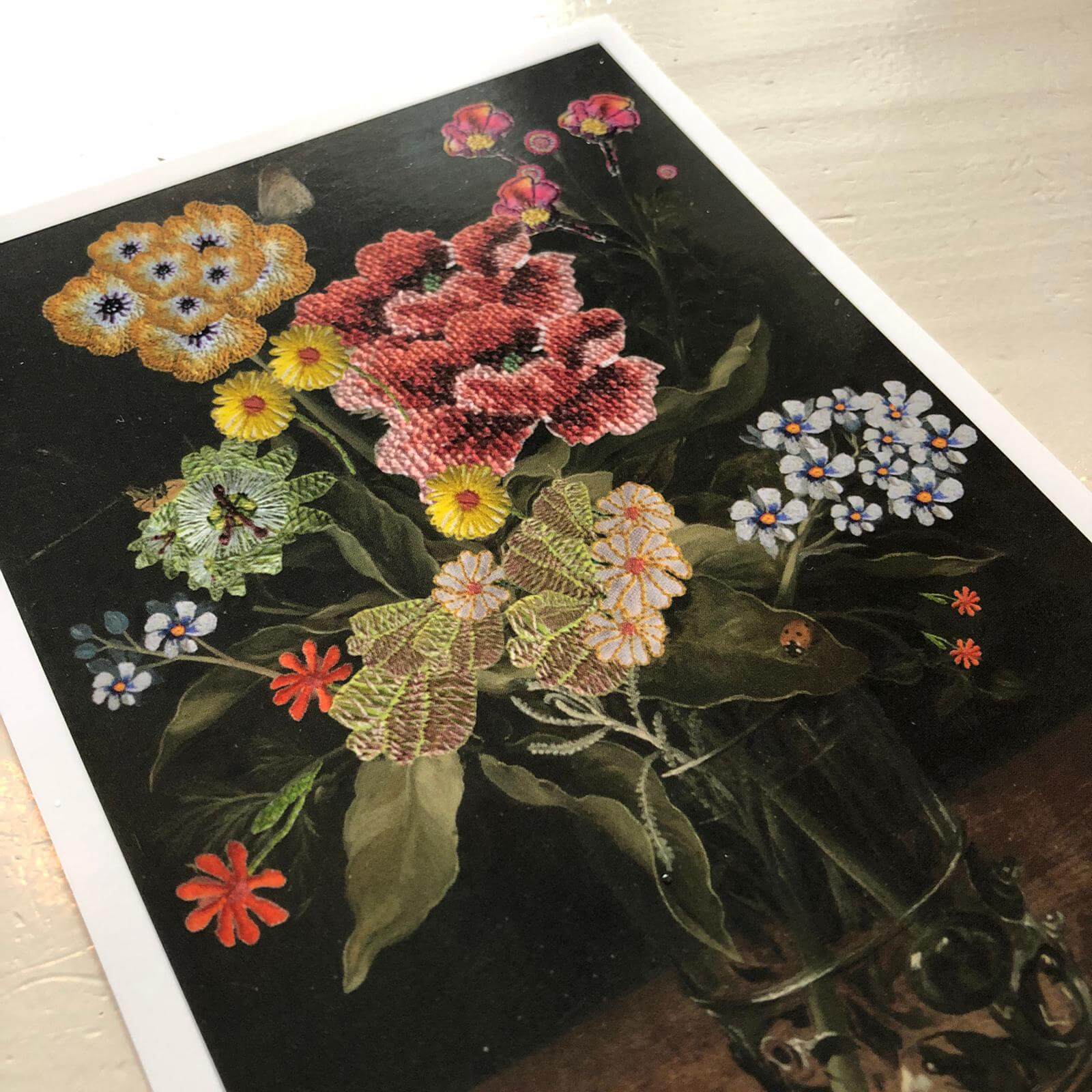 Ook dit keer ben ik in de
Rijksstudio
van het Rijksmuseum Amsterdam opzoek gegaan naar een basis voor mijn nieuwe kunstwerk. Dit keer werd mijn aandacht getrokken door het schilderij
'Stilleven met bloemen in een glas'
van Jan Brueghel II, gemaakt ergens in de periode 1625 - 1630.
Ik lees de bijbehorende tekst op de site "Zoveel bloemen in een klein glas water: voor een 17de-eeuwer moet dat de indruk hebben gewekt van buitensporige overvloed. Bloemen waren kostbaar, een tuin bevatte slechts weinig bloemen te midden van veel groen." Het originele schilderij is te bewonderen in het Rijksmuseum Amsterdam in zaal 2.3.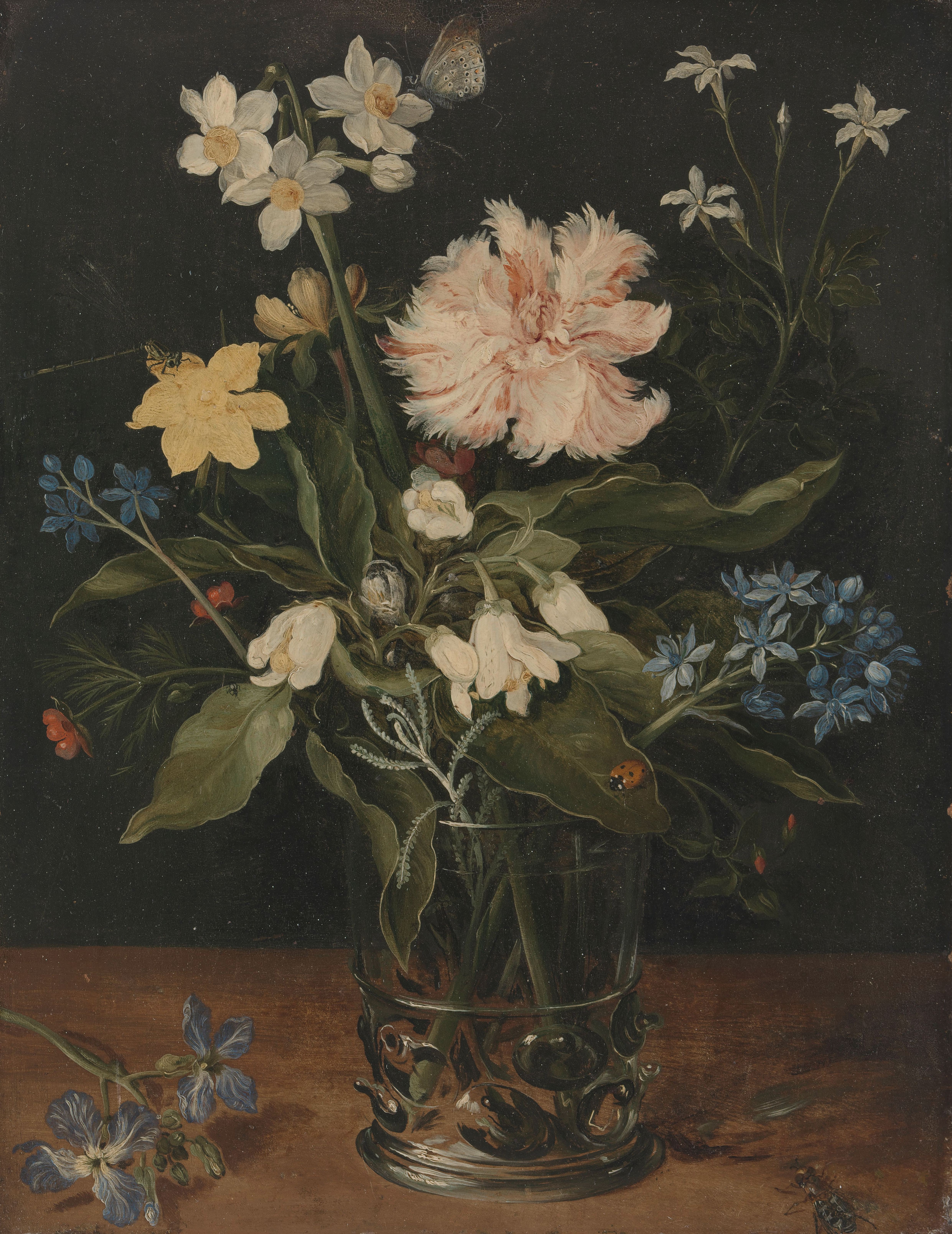 Als het museum weer open is ga ik het zeker bezoeken. Ik kan niet wachten om dit schilderij in het echt te bewonderen.
Als bedankje heb ik alle deelnemers een kaart gestuurd van het uiteindelijke kunstwerk op A6 formaat. Een aandenken aan hun deelname aan dit kunstproject.
En tegelijkertijd smaakt het naar meer..... en dus start ik met een nieuw Love Blooms kunstwerk, dus doe je mee..?
_______________________________________________________________________________________________
The 2nd artwork from Love Blooms is a reality! This week I started to digitally arrange flowers with the embroidered flowers I have received over the past few months. It remains special to get an envelope out of the mailbox with Love Blooms addressed on it! Because that means that there is an embroidered surprise inside.
This time too the envelopes came from all over the Netherlands and even from New York, America. The flowers are accompanied by a handwritten letter, so nice to read who the sender is and how much pleasure that person has had in embroidering the flower.
Once again I went to the
Rijksstudio
of the Rijksmuseum Amsterdam in search of a base for my new artwork. This time my attention was drawn to the painting "Still Life with Flowers in a Glass" by Jan Brueghel II, made sometime in the period 1625 - 1630.
I read the accompanying text on the site "So many flowers in a small glass of water: for a 17th-century man, that must have given the impression of excessive abundance. Flowers were precious; a garden contained only a few flowers amidst much greenery." The original painting is on display at the Rijksmuseum Amsterdam in room 2.3.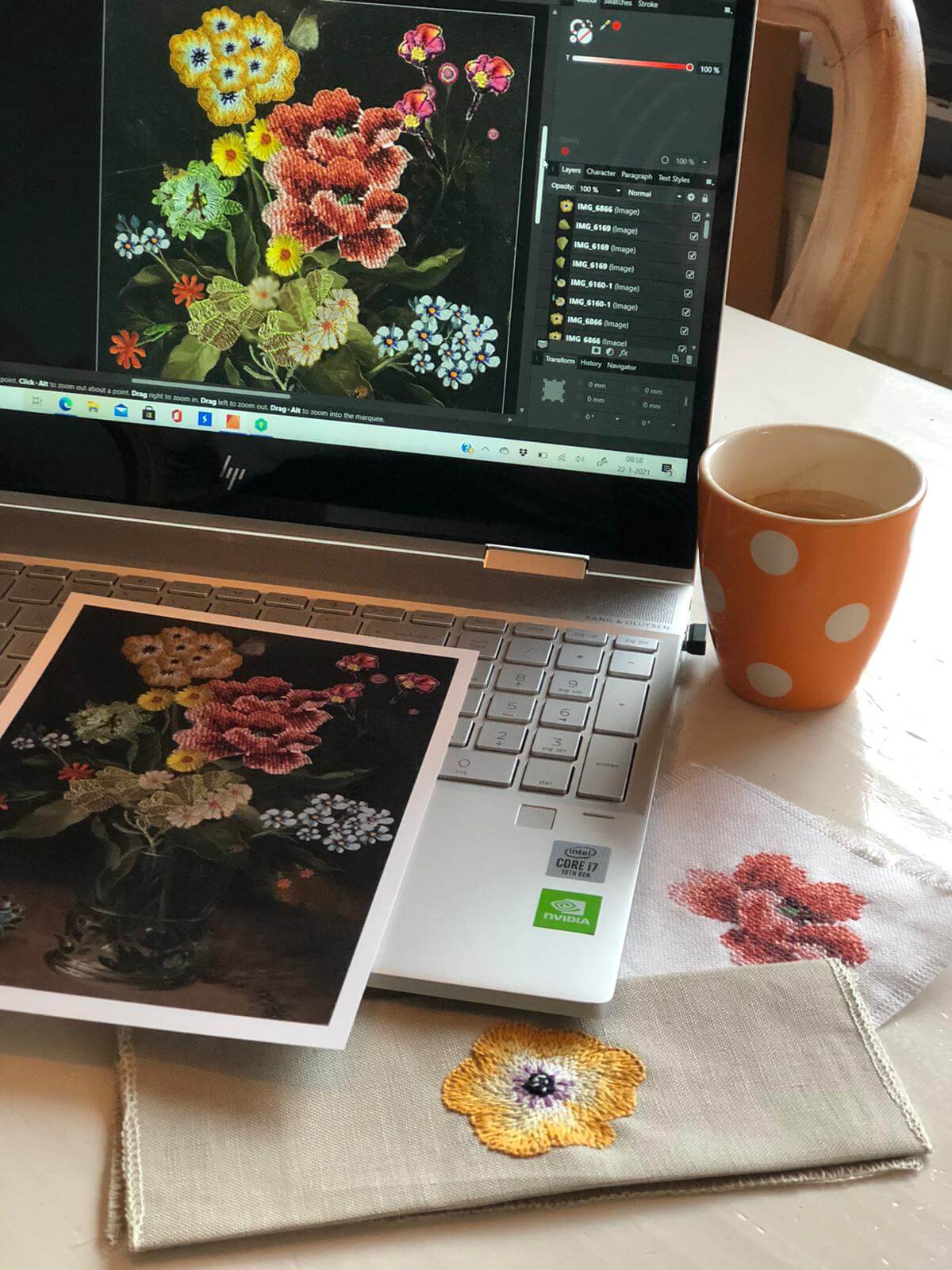 When the museum reopens I will definitely visit it. I can't wait to admire this painting in real life.
As a thank you, I sent all participants a card of the final artwork in A6 format. A memento of their participation in this art project.
And at the same time it tastes like more..... and so I am starting a new Love Blooms artwork, so will you join me...?